How to Create Memorable Packaging
To create a product that sells involves a lot more than just the right glass container. Obviously, that's an important starting point and one that Rawlings can help with, but what do you do next and how do you go about doing it?
The goal is to decorate glass packaging in a way that personifies the brand and results in sales and profits. Sales effective packaging should be one that consumers can quickly connect with on an emotional level as well as rational for them to decipher if this brand/product is for them, but it's got to be noticed first.
Unfortunately, brand owners can overlook how important the decoration aspect can be and will just focus on how pretty it will look. At Rawlings, we create beautifully decorated, retail-ready glass packaging that also sells, but to do so there are certain boxes that need to be ticked.
Brandpackaging.com recently approached leaders at four agencies to understand how they create memorable packaging.
They asked the following questions:
1. What would you say are the key factors in great packaging design?
2. How does packaging fit in to defining a brand?
3. Are there any steps in the design process that are commonly overlooked by both clients and/or agencies?
4. What information is critical for brand owners to supply when they start the launch of a new product?
Here's a roundup of what they said in order of the questions above…
Key factors include being memorable, so consumers can recall your product. Packaging needs to evoke an emotional reaction; one that results in a preference. Packaging also needs to stand out for the above two points to work.
To the consumer looking at your product, the packaging is the brand – packaging is everything, it sets the tone, brings the proposition alive, builds the brand recall and is the first stop of the brand experience which drives purchase intent.
Understanding the destination that the product will live in and working back from this to select the right packaging. Having proper core identifiers, colours, shapes, symbols to reinforce the brands purpose and encourage brand recall. Forgetting the consumer: most consumers show up at the shelf looking for something specific, so the packaging needs to reflect your value proposition.
Try not to target everyone, use the space on the packaging to sell to a specific customer base. Targeting everyone is not realistic. Try not to design in a vacuum, get to know your target market and create packaging to truly influence them.
To read the full article click here.
Before you go ahead and get stuck into creating your brand, we strongly advise speaking with Rawlings to understand a little more about the methods of glass decoration and how they may impact your design.
There are always pros and cons to each decoration process, whether that's screen printing, spraying, shrink sleeving, labels, 3-D printing, embossing, transfers or hot foiling, so it's advisable that you understand these first.
For example, screen printing - a process where ink is applied directly to the glass - creates a very sleek, premium look as there is no label involved. It has massive shelf appeal, but is best utilised with simple, bold designs. It can also be combined with other decoration processes such as spraying and hot foiling to really make the product stand out. The detail is crisp and the achievable print can be quite small, so it works well on both small and large glass containers.
Screen printed glass is associated with high-end products, mainly in the drinks (alcoholic and non-alcoholic), beauty, home-fragrances and candle markets, and Rawlings have completed many projects for some well very known brands in these fields.
It is often thought of as an expensive method of decoration because it is associated with big, or expensive brands. This isn't true. For anyone looking to create a new brand or product, screen printing can be very affordable and has one of the lowest MOQs (minimum order quantities) in the industry at just 500 units.
In terms of process, only one colour can be applied to the glass at a time, and each colour needs to have an associated screen produced. The more colours you have the more expensive the print. However, some of the best and most recognisable designs only use one or two colours – take our customer Wild Beer for example.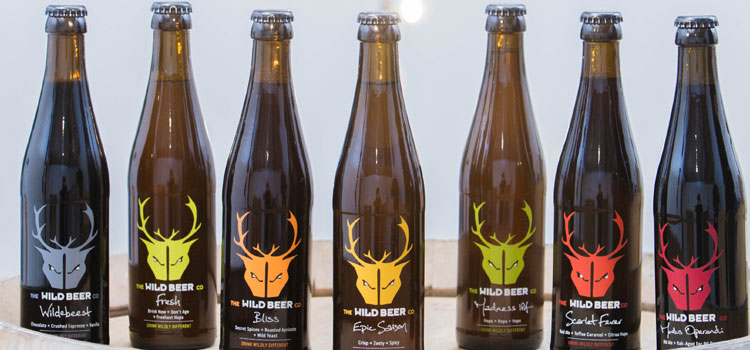 If, however your design is quite intricate or uses a lot of colours then screen printing may not be the best direction to take for the following reasons.
Firstly, it can be quite costly, especially if your colour palate involves non-standardised colours as these will have to be ordered in especially, but what is costly to some may not be costly to others. Secondly, there is a limit to the level of detail a screen print can achieve, and thirdly there is a level of scrappage associated with screen printing.
Because screen printing isn't a fully automated procedure there is an element of trial and error until the print is perfect (there are multiple reasons for this), but this is standard throughout the industry.
For every 'process' or colour applied to glass the scrap rate is around 4%. The more colours you have the higher the level of scrappage, meaning you will need to purchase a larger amount of glass to account for this – if you want to. This may not be an issue if you are screen printing a large amount of glass, but for lower quantities it is worth considering.
There are no hard guidelines to judge whether screen printing, or any other method of decoration should or shouldn't be used. As experts in this field, it is our job to push the boundaries of what is achievable, and our responsibility to highlight any pitfalls allowing you to make the right decision for your brand.
The point is, don't let decoration be an afterthought. To get the best possible outcome speak to Rawlings early and we can guide you through all options.